Today when checking my mail, the daily featured photo caught my eye... A PIKA! I Pika is a small, hamster like animals who live in cold climates. They are the only known animal related to the lagamorph(rabbit and hare) family! From my understanding this is because they have a pair of gnawing incisors, just like rabbits. (look behind your rabbits top teeth, you'll see a second pair behind them!)

Aren't they just ADORABLE?!
Now... you may be seeing some relation, what does a Pika look like to you?!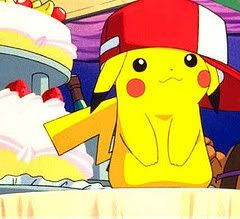 Yes, your favorite crime-stopping poke'mon, Pikachu!!!
Now, when you really compare them they look nothing like, but still adorable. I don't quite recall the name of the second version of Pikachu, however, I think he looked more like the actual Pika. LOL.
So, here is what inspired me to write this quick post. The website who hols my email account... :P
http://www.live.com/
If you hover your mouse, it'll give you little facts about the cute mammal.
Also Wikipedia:
http://en.wikipedia.org/wiki/Pika
Until next time...
Susie Cederlof
WWR