I know I know, I'm busy. Today I made a grooming demonstration video of me grooming a wooly. I'll try and get it uploaded if I decide to share or make another one. :P
Here are a few pictures I want to share. Its been a while since I've taken pictures. Everybody is molting hectically.

My newest buck, LeSage's Cracker Jack. He's a broken Seal with 6 legs. Thanks ANGEL! :)



WWR Kiki a blue junior doe, 10 weeks with a molty woolcap- its the latest trend.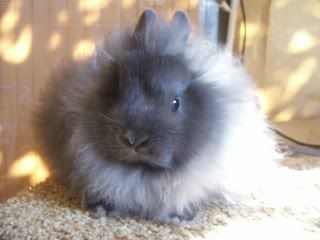 Kiki is absolutely beautiful and my favorite junior produced this last round. Unfortunately, she has a white nail. >.>



Katie's babies. The one in the middle is a peanut and 12 days old. 3 opal, 1 broken opal and 1 broken chestnut.



My AMMADON babies! So cute. A smoke Pearl and a Seal.



Her favorite pose, BLUE STEEL! (from Zoolander) Blue Steel will be her name. She's always shooting the blue steel. :P

Thats all for now. I hope to get everything together soon and cut down on the herd.
Sales pages updated on my website!
Thanks~
Susie
WWR