One July 7th, 2007, my doe G.C. Wooligan's Party Girl(black otter, 6 legs) gave birth to 7 kits. There were a variety of colors in this litter, not what I expected either. Shadeds! I bred her to my buck, G.C. WWR Pee Wee. Two of these kits were peanuts, and two vanished at about 5 days old. The three that were left were a black otter, a sable martin, and a siamese sable.
These three kits grew up into beautiful babies. We named the black otter WWR Luxurious, the Sable Sir Mix A Lot, and the Sable Martin renamed nameless. I decided to show them a bit too. All did wonderful, got wonderful comments. Sir Mix A Lot took a BOG and Lux took a few BOSGs, even over her mother. The judges were amaized with the type on these animals and gave props to the breeder. I was really proud of these babies.
One is a really special boy, I traded him to my best friend Dorissa for her doe, Wooligan's Cleopatra, a opal with about 4 legs at the time(currently 5). It was really hard to give Sir up, but we know the trade would both work really well in our breeding programs.
Sir was such a sweet boy, I missed him all the time and regretted trading off everytime I saw him. He just got nicer and nicer. Thinking to myself, "What did I do?!?!"
A few days ago, Dorissa decided to be no longer in rabbits, and as well they really didn't want to take them with the move. I decided to buy the whole herd(about 10 rabbits), and here I got back my baby. Sir Mix A Lot. =) He has developed really nicely, I can't wait to show him on the tables! Here he is...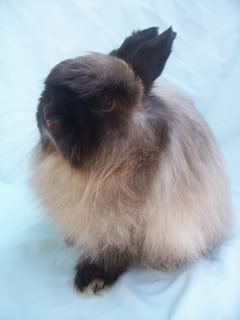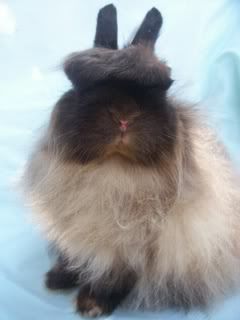 The story of his name is inspired by the song "Baby Got Back"(Sir Mix A Lot sings this song) which he has a smooth wide hindquarter. What a silly name! LOL.