We wern't planning on getting anymore bunnies for quite a while, but Dorissa had to sell out due to moving. As a result, I bought her whole herd. Here are a few of the bunnies added into our herd.
LeSage's Shakira- Siamese Sable Senior Doe
We are very proud to be the new owners of Shakira. She is such a beautiful doe with amazing all around type. She has about 6 legs, and 2 Reserve is Shows. We plan on breeding her ASAP. =P
WWR Sir Mix A Lot- Siamese Sable Senior Buck
Wow- I'm sure happy to have him back with me! He has always been a cutie. He has a good personality too. He will be seeing some ladies soon. He is a WWR Pee Wee X Wooligan's Party Girl baby. We sure miss his daddy, we're glad to have him back home. He bloomed into a beautiful boy!
LeSage's Jazzy- Seal Senior Doe
Jazzy is such a sweetheart and we are also glad to have her here too. She has really nice type too, she just needs a little bit better flesh condition. Nice correct wooly head.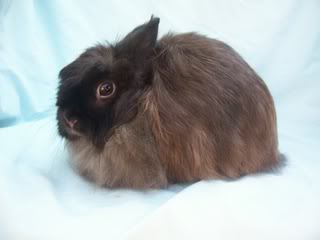 There are a few more rabbits, some are molting pretty badly!
Thank you Dorissa, and again so sorry you had to sell your buns. They have a great home here, remember I'm always here if you ever get back in. =)