Today was a pretty decent show day. I only brought a few rabbits to show. Two woolies and three fuzzies to be exact.
I'm keeping this post very simple and sweet, I'm tired and really want to go to bad. ;)
Show A JW: I won
BOSB
with WWR Abbygail. She's my REW Senior Doe whos taken many months to develop. =P I'm very pround of her. She has many many many group wins where shes just needed an extra rabbit or exibitor to win a leg. She finally got her first. ;)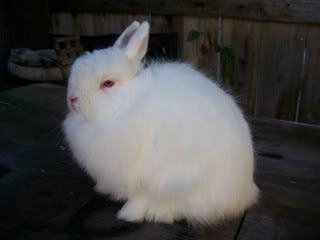 Show B JW: I won
BOB
with my new Shaded Senior Buck, Thumperhill's Ammadon. This is his granding out leg. I'm happy he did well. I honestly can't wait to get some babies from him. Excuse his bad picture, hes a bit of a table hugger! lol. And the lighting is soo horrible, I'll get a new one up soon!!!
In Show B AFL: Addison won 2/6. Yay. Theres a little story behind this, I'll just say I'll re-tatt him for a better win next time! lol.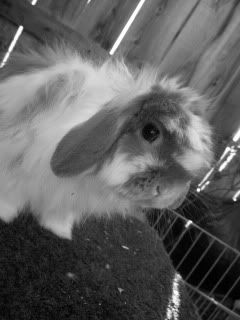 Until next time, may your bunnies be wonderful winners. See everyone in Red Bluff!
*Stockton, CA show pictures comming soon!*