It seems that the babies are getting bigger each and every day. Currently, they are at their cute stage. These are some of the CUTEST babies I've had. They are full of personality and love. Its one of those things that you better not pick them up when your busy or going somewhere- because time WILL be delayed. ;)
Audrey is one VERY special bunny. She is by far the cutest, sweetest, smartest, most loving, and spunky bunny I have ever had. Sadly, she has a foot deformity from her leg getting caught up in wool as a newborn. She is as happy and healthy as can be! Her mother is WWR Pearl(2 BOSB Legs) and father WWR Sleepwalker. This is a third generation WWR bunny. =)

WWR Ms. Audrey Kitching- Broken Black Junior Doe- 4 weeks old.
Audrey's brother is also a cutie! =) He has a very promising head set from what I can see. He has a very thick, cobby body also. I think this is going to be a very nice show bunny here.

WWR Sleeptalker- Black Senior Buck- 4 weeks old.
Our next litter is Wooligans/WWR Ro Sham Bo X Cedar Ridge's Blue Rain. These two boys are CUTE. I think they also have a lot of potential. ;) They are already naturally posing(I've been in love with Daddy's gene!) and showing nice roundness to their bodies. Very cute head sets on both of them. They are almost replicas, exept on is Chestnut and one is Black Otter! LOL.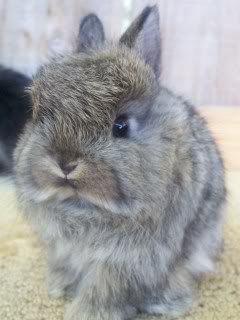 WWR Scissor Game- Chestnut Junior Buck- 3 1/2 weeks old.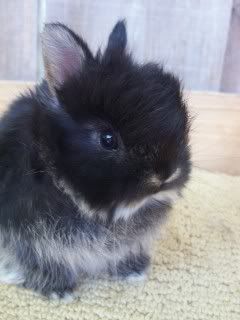 WWR Inky Binky Bonkey- Black Otter Junior Buck- 3 1/2 weeks old.