A few weeks ago I had decided I wanted to sell out of my American Fuzzy Lops. It was a tough desistion, but I have more focus on my woolies at the moment. Well, on a trek up to OR and WA with my friend, Katie, of Starlite Rabbitry, I had come home with a few Fuzzy Lops. =P It was hard to pass up these guys! ;)
I had brought home a Broken Orange, a Blue Tort, and a Broken Blue Fox. All have exeptional type. From being in the hot, California weather, they have all decided to blow their coats. It may be a while before they hit the show table.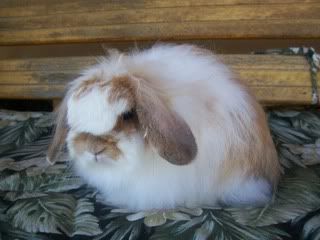 Meena- Broken Orange Senior Doe- 1 Leg for BOB
Has exeptional type, and personality. It was love at first sight with this girl. =P



Addison- Broken Blue Fox Senior Buck
What a sweetheart! He has the cutest face. I love his color. ;)



Tacoma- Blue Tort Junior Buck
He has a molty head in this picture. He has VERY nice body type, head and ears! Cait wait to show this boy.


A HUGE thank you to Leslie Hobbs of Hobb's Habbitry for these amaizing animals! =D