Hey everyone,
I've been very busy and don't have enough time to keep up with my whole herd of Jersey Woolies and American Fuzzy Lops, in result, I'm selling the majority of the Fuzzy Lop herd, and over half of the Jersey Wooly herd. The Fuzzy Lops I'm selling are mainly my highest show stock, and breeding stock. As I do not have the focus on them as much as my woolies. The woolies I have availible are my best breeding stock. I've priced them low cause I'm trying to get them moved out!
Check out my sales page on my website: www.freewebs.com/lbbbsrabbitry ...Pictures and information are present on the site. Email me if you'd like more! =)
I'll be attending the upcomming Stockton show in September. I also have transport the weekend of 17th-19th up to OR/WA. Transport to ARBA Convention 2007 in Grand Rapids, MI is also most likley availible. ;)
Email me at lbbbrabbitry@yahoo.com . =)
Featured rabbits:

WWR Popstar- 1 G.C. Leg
Broken Black Senior Doe
Very nice doe, who has a couple of BOBs. Wonderful mother, throws very nice kits.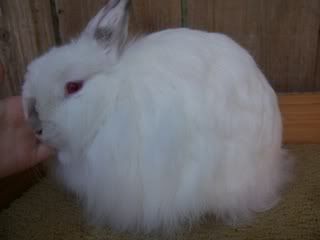 WWR Deja Vu
Chinchilla Pointed White Senior Doe
My best producer in my herd, throws AMAISING kits. Never seen such a wonderful producer. Very cheap price! Breed her to the right color and you'll get showable babies. I didn't get any unshowable colors out of her. ;) Throws a rainbow, though!



AK's Adrienne- 1 G.C. Leg
Broken Tort Senior Doe
She has one open BOB leg. She has very nice type, lovely wool. She has a little bit of an attitude, never tried getting her bred, I'm sure she'd have BEAUTIFUL babies bred to the right buck. I don't mind breeding her before she leaves. ;)