We have started the shows back up, after a long 5 months of not attending on single ARBA show. The anticipation had build up and we hit out first show in Stockton, CA 9.18.07.
It was great to see everyone, and see some new faces on the wooly tables. Everyone had some really impressive animals up.
In Woolies, we did fairly well. We had molters, and supposivly the molty woolcap fad is bad in. I brought a couple of does who don't want to be bred so they will get "in the modd" after attending a show. That has always worked for me. =)
Our little chestnut doe WWR RPS had done well her first show. I really like this does type, she is very complete. Both shows at Stockton, she got 1/3. She didn't get shown at Watsonville, as she started molting and still is in a molt. Sorry for this older picture.
LeSage's Shakira was also shown in Stockton. Show A she was 1/4 and BOG. Shakire is in a molt, in her picture. We are currently trying to get some nice babies out of her.
Our Chin buck, WWR Peter has been doing awesome too! This is the longest I've seen his coat ever. Hes a table hugger, so sometimes he doesn't get the best impression. He was 1/5 BOG at Stockton, CA show B. At Watsonville, he was 2/5 specialty. Show A 1/6 BOG.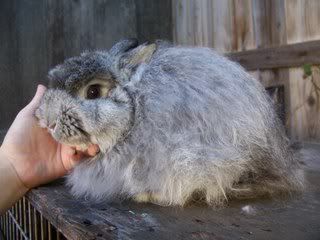 We had shown 1 Fuzzy at Stockton. This was Kismet's Sia. She took 1/2 BOV show A, and 1/2 BOV, BOSB show B. She is looking cute!
Also, at Watsonville we had only shown 1 AFL. I brought WWR Carley, and Orange one day till senior doe. She placed well. I'm very happy for her.
I'm happy to see Hare's Mystic do well on the tables. He's been moulty for a while but he came back in right in time for the show season! He shown at Watsonville, CA. Specialty show, he was 1/7. Show A, he was 2/7 and show B he was 1/7 again. Two more legs for him! He's at about 8-9 legs now.
Wooligan's Party Girl tagged along to get back in the mood for breeding. Ever since her first litter she lost condition and isn't quite ever back in it since. Result- she doesn't show as well. She did do decent at Stockton and Watsonville. Stockton show A she was 1/1 BOG and show B 1/1 BOSG. Watsonville she was 1/3 BOSG Specialty, show A 1/1 BOSB and show B 1/1 BOG. Hopefully we will have some babies from her soon...
I'm proud of my little REW doe, WWR Abby. She looked decent for both shows, and did pretty well. Stockton she was 2/3 show A and show B 1/3 BOSB. Watsonville show took 2/4 specialty show. Show A 1/4 BOSG and show B 3/4.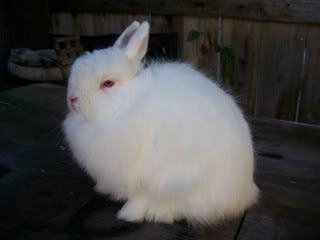 Last but not least, WWR Sisily. Shes the cute little AOV who was BOB at Solano County Fair. She is DQ'ed most of her shows for being in "unreconized" variety. She may be a lilac pointed, but I still think she is a black like she was when she was a baby. At Stockton she was 1/1 show A. Show B Watsonville she was 1/2, BOG, and BOSB! Shes a pretty doe. I probably will not show her until her color darkens back up again. Stupid weather. =P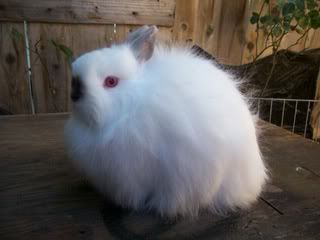 I have a few rabbits availible for sale, if interested please email me asap! ;)
Susie =)